Regular price
Sale price
$38.00 USD
Unit price
per
SPECIAL PRICE!
Sold out
Our best selling signature Evil Eye Bracelet is the first bracelet we ever made and continues to be a favorite. It's hand strung and knotted on our signature red nylon cord featuring a single ceramic evil eye and 24K gold plated detailing. The hand tied double slip knots are designed to be fully adjustable so you're able to tighten to or loosen to fit your wrist.
The perfect gift for yourself or someone special awaits, and arrives perfectly packaged in our nice things snap case jewelry holder, 100% cotton Nice Things cotton pouch and a beautiful description card. We love a detail.
The evil eye is believed to deflect negative energy, provide protection against the evil eye and bad luck and bring good fortune. Our bracelets look great worn alone or stacked.
The Details

All of our jewelry is loving made and packed in our NYC studio.

Your piece arrives to you perfectly packaged in our Nice Things reusable snap front jewelry holder and 100% cotton Nice Things Inside pouch.
Care Instructions

WILL MY JEWELRY TARNISH?

The majority of our charms are gold filled, which is top quality and only second to solid gold, so they're slower to tarnish than other materials. However, how long your bracelet or necklace lasts without turning depends on 3 main things:

What touches it: If your bracelet or necklace comes in consistent contact with chemicals (for example: chlorine, bleach, sanitizers, fragrances, sunscreen) this can cause it to tarnish more quickly.
Your body chemistry: Everyone has different levels of hormones that react differently to gold filled products. People with higher hormonal levels tend to have their jewelry turn faster. If you sweat a lot, this can have an effect on how quickly your jewelry tarnishes too!
How you store/care for your jewelry: Less airflow allows for lesser chance of oxidization (which is one of the reasons for tarnishing). For example, if you live in a humid environment, it may be best to store your pieces in a tight sealed zip lock bag overnight as an extra precaution. We also suggest reducing tangles- the less tangled your pieces is with other jewelry- the longer it will last without tarnishing!

Remember - we love the worn-in look so we wear our jewelry during workouts, showers, while we're sleeping (aka we never take them off). These are just the facts behind what could potentially cause your bracelet to lose some of that shine!

CAN I CLEAN MY JEWELRY?

While we don't typically clean our Sunday Forever jewelry pieces (we like ours looking worn and lived-in), you can gently clean them daily.

If you would like to clean your Sunday Forever pieces, we suggest giving it a quick rinse in lukewarm water and then drying with a soft cloth. This will help prevent tarnishing from factors like makeup, sweat, sunscreen aka things that come in contact with you jewelry daily. 

DO I NEED TO TAKE MY JEWELRY OFF WHEN SHOWERING, SWIMMING, ETC?

This is a personal choice. We choose to never take off our bracelets, necklaces or anklets. They can withstand quite a bit of wear and tear but if you're concerned about them turning a bit or getting dirty, you should probably remove them. We like them to look worn and broken in, it gives them character :)
Shipping & Returns

It's our mission to get your nice things to you asap and make sure you love what you've got, and are thrilled to offer free shipping on orders over $100 and hassle-free returns.

Shipping

We pull our orders at 10am EST each day (excluding Wednesdays, Saturdays, and Sundays).

If you selected USPS Standard Shipping (or Free Shipping), your order will typically ship within 1 to 2 business days of when it was placed. Any orders with red string jewelry may take an additional 5 to 7 business days to process. If you need your order by a certain date, please leave a note at checkout or reach out to heretohelp@sundayforever.com and we'll do our best to prioritize it.

If you selected Fedex 2-Day or Fedex Standard Overnight, your order will ship the following business day.

Returns

For an exchange or return, please click here and we'll get you sorted. All returns have a $5 shipping and re-stocking fee. Exchanges are free.

Please note we can not accept returns for any custom items (i.e. embroidered robes & custom jewelry).
Share
View full details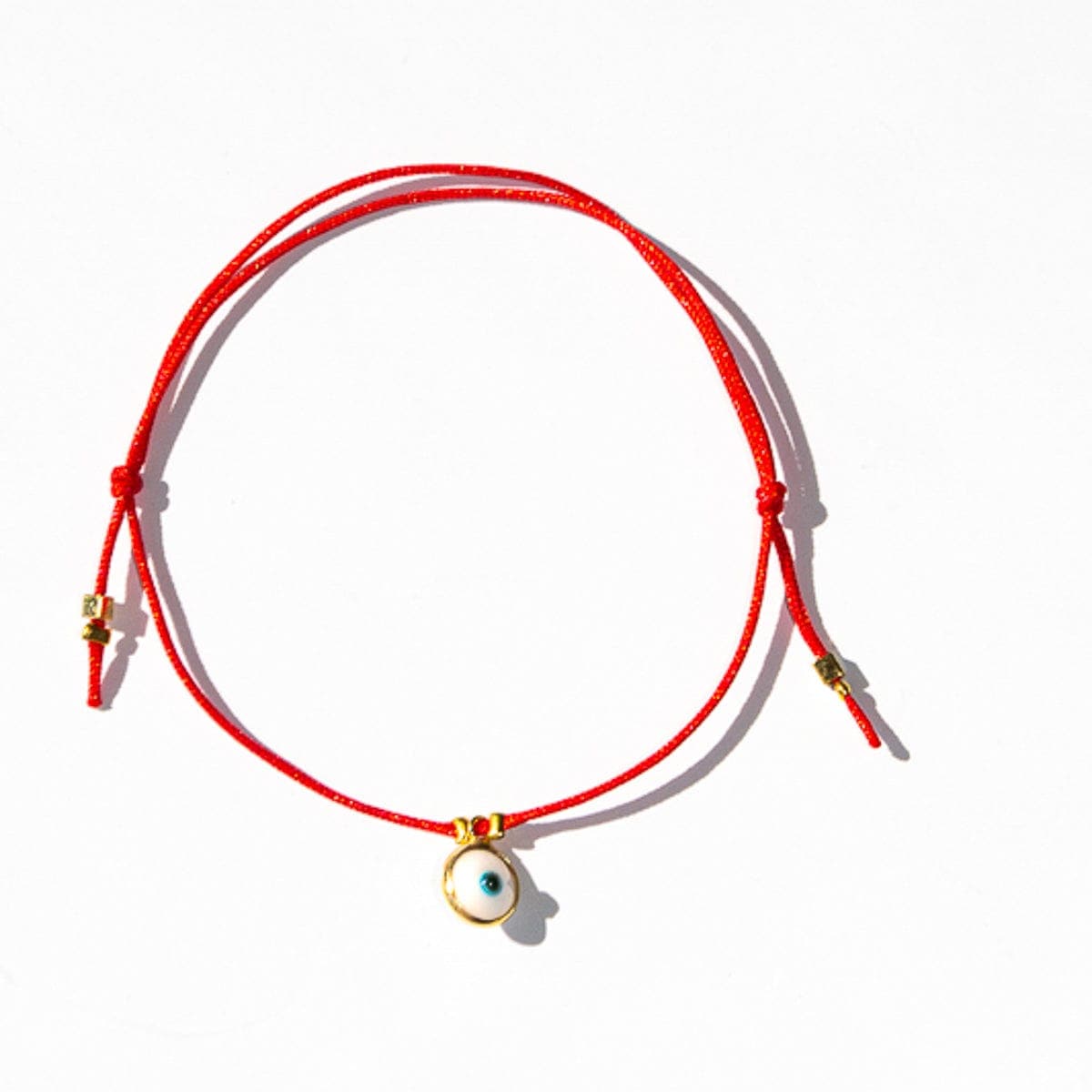 Absolutely love
I love these evil eye bracelets. there simple but that's exactly what I was looking for. I have had mine ON for 2 years if not 3. It still looks new the only thing is that the charm lost the gold color and now it's just silver. But other than that it's still in great condition! I wear it 24/7 in the shower,working out , sleeping i have it on all the time . Even though it still looks great I already have a backup one just Incase. I will definitely be buying more.
Hi Fabi! We're so happy you're loving your red string jewelry, WOW that's a long time - let us know if we can ever help you restring your old pieces! We'll make 'em look all nice and new :) Thanks for the taking the time to leave your feedback - your support means the world <3
Missing order - shipment never received
Please provide me with complete tracking information.
Hi there! Did you happen to email our customer service? We'd be happy to help of you gave us a chance ❤️
Thoughtful, unique and glorious selection
I was able to purchase the most special gifts for many on my list (including a few for myself) and the customer service is divine.
LOVE, fantastic, hooked
The packaging alone convinced me to continue to shop here. If that level of care is taken in packaging, the merchandising and customer service has to be stellar! The bracelet is a gift and I'm sure my friend will love it! I'll be doing lots of holiday shopping at Sunday Forever! Thank you!
simple & cute
I love these bracelets! They are so simple but cute! The packaging is always on point too!
Amazing. Amazing. Amazing. (3 words)
I ordered an evil eye bracelet wit tassel. Tassel fell off with time but bracelet was beautiful and more important, meaningful. Eventually had to order new (only because of the energy these bracelets absorb and deflect.) Not only was my order fulfilled but the special something included in my order was beyond words. Thank you. ;)
The packaging was on point (as usual) and I can't wait to start wearing my bracelet!
Love!
I love my bracelets so much! I have several for myself and have purchased many as gifts, I highly recommend!
Lovely bracelet
Didn't give 5 stars because it's pretty loose even on the tightest i think it can go? Also i felt like a lot of resources were spent on the packaging… they could save money (and charge less) without all the un needed stuff that came with it.
Hi Pamela,
Thanks so much for your feedback! We'd be happy to make your bracelet smaller if it's a bit too large, just send us an email :) Also we appreciate your note about our packaging, but we love the details and put so much work into our bracelets we believe they deserve to be presented in a magical way. Take care xx
Stack. Collect. Gift. REPEAT.
Whether you design something custom or shop our best selling classics, all Sunday Forever jewelry arrives to you perfectly packaged in our Nice Things reusablesnap front jewelry holder and 100% cotton Nice Things Inside pouch.
OUR VIBE

SUNDAY FOREVER is a small female founded and run business based in NYC. The brand was born in 2016 out of a desire to make perfectly packaged, nice things that could be delivered to your doorstep or to someone special. 

To this day we pack and ship every single order from our studio with our very own human hands. We create and design everything in house and our customers and community are the reason we exist. We aim to delight you.

OUR JEWELRY

From our handmade signature red string jewelry to silver and 14k gold favorites, all Sunday Forever pieces are made to be worn for protection and luck.

Stack them, collect them, gift them.

Choose from our classic best-selling designs or select your charms and we'll make it custom. From evil eyes to horse shoes, zodiacs and letters, the meaningful possibilities are endless.