Regular price
Sale price
$42.00 USD
Unit price
per
SPECIAL PRICE!
Sold out
Our Rainbow Eyes Layering Necklace is the perfect addition to your stack bringing all the good vibes and evil eyes. This necklace features multicolored evil eyes, gold filled details and a lobster claw clasp. 
Necklace is 14" long but can adjusted to any length you like, and also looks really cute as a choker or even wrapped around your ankle.
The Details

All of our jewelry is loving made and packed in our NYC studio.

Your piece arrives to you perfectly packaged in our Nice Things reusable snap front jewelry holder and 100% cotton Nice Things Inside pouch.
Care Instructions

WILL MY JEWELRY TARNISH?

The majority of our charms are gold filled, which is top quality and only second to solid gold, so they're slower to tarnish than other materials. However, how long your bracelet or necklace lasts without turning depends on 3 main things:

What touches it: If your bracelet or necklace comes in consistent contact with chemicals (for example: chlorine, bleach, sanitizers, fragrances, sunscreen) this can cause it to tarnish more quickly.
Your body chemistry: Everyone has different levels of hormones that react differently to gold filled products. People with higher hormonal levels tend to have their jewelry turn faster. If you sweat a lot, this can have an effect on how quickly your jewelry tarnishes too!
How you store/care for your jewelry: Less airflow allows for lesser chance of oxidization (which is one of the reasons for tarnishing). For example, if you live in a humid environment, it may be best to store your pieces in a tight sealed zip lock bag overnight as an extra precaution. We also suggest reducing tangles- the less tangled your pieces is with other jewelry- the longer it will last without tarnishing!

Remember - we love the worn-in look so we wear our jewelry during workouts, showers, while we're sleeping (aka we never take them off). These are just the facts behind what could potentially cause your bracelet to lose some of that shine!

CAN I CLEAN MY JEWELRY?

While we don't typically clean our Sunday Forever jewelry pieces (we like ours looking worn and lived-in), you can gently clean them daily.

If you would like to clean your Sunday Forever pieces, we suggest giving it a quick rinse in lukewarm water and then drying with a soft cloth. This will help prevent tarnishing from factors like makeup, sweat, sunscreen aka things that come in contact with you jewelry daily. 

DO I NEED TO TAKE MY JEWELRY OFF WHEN SHOWERING, SWIMMING, ETC?

This is a personal choice. We choose to never take off our bracelets, necklaces or anklets. They can withstand quite a bit of wear and tear but if you're concerned about them turning a bit or getting dirty, you should probably remove them. We like them to look worn and broken in, it gives them character :)
Shipping & Returns

It's our mission to get your nice things to you asap and make sure you love what you've got, and are thrilled to offer free shipping on orders over $100 and hassle-free returns.

Shipping

We pull our orders at 10am EST each day (excluding Wednesdays, Saturdays, and Sundays).

If you selected USPS Standard Shipping (or Free Shipping), your order will typically ship within 1 to 2 business days of when it was placed. Any orders with red string jewelry may take an additional 5 to 7 business days to process. If you need your order by a certain date, please leave a note at checkout or reach out to heretohelp@sundayforever.com and we'll do our best to prioritize it.

If you selected Fedex 2-Day or Fedex Standard Overnight, your order will ship the following business day.

Returns

For an exchange or return, please click here and we'll get you sorted. All returns have a $5 shipping and re-stocking fee. Exchanges are free.

Please note we can not accept returns for any custom items (i.e. embroidered robes & custom jewelry).
Share
View full details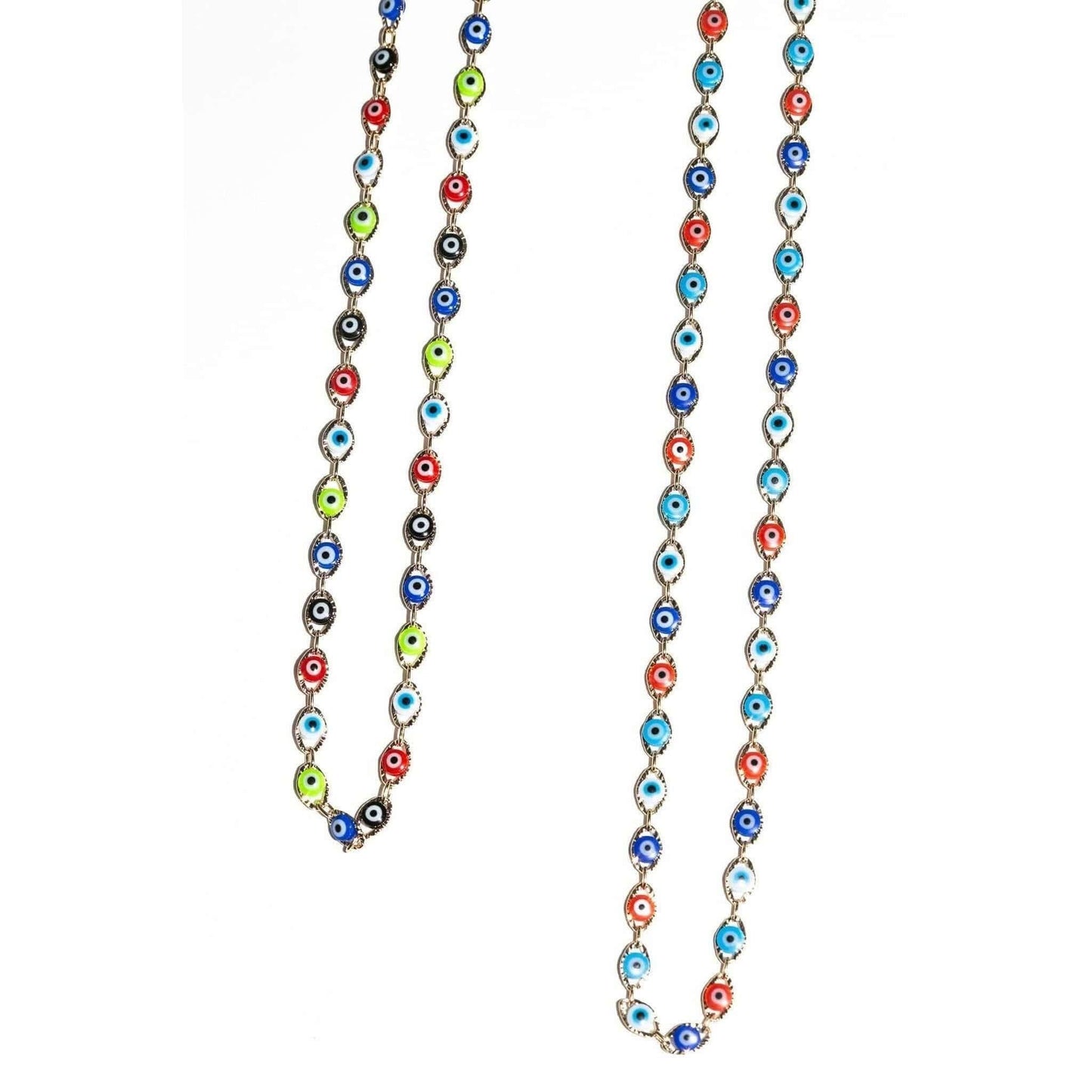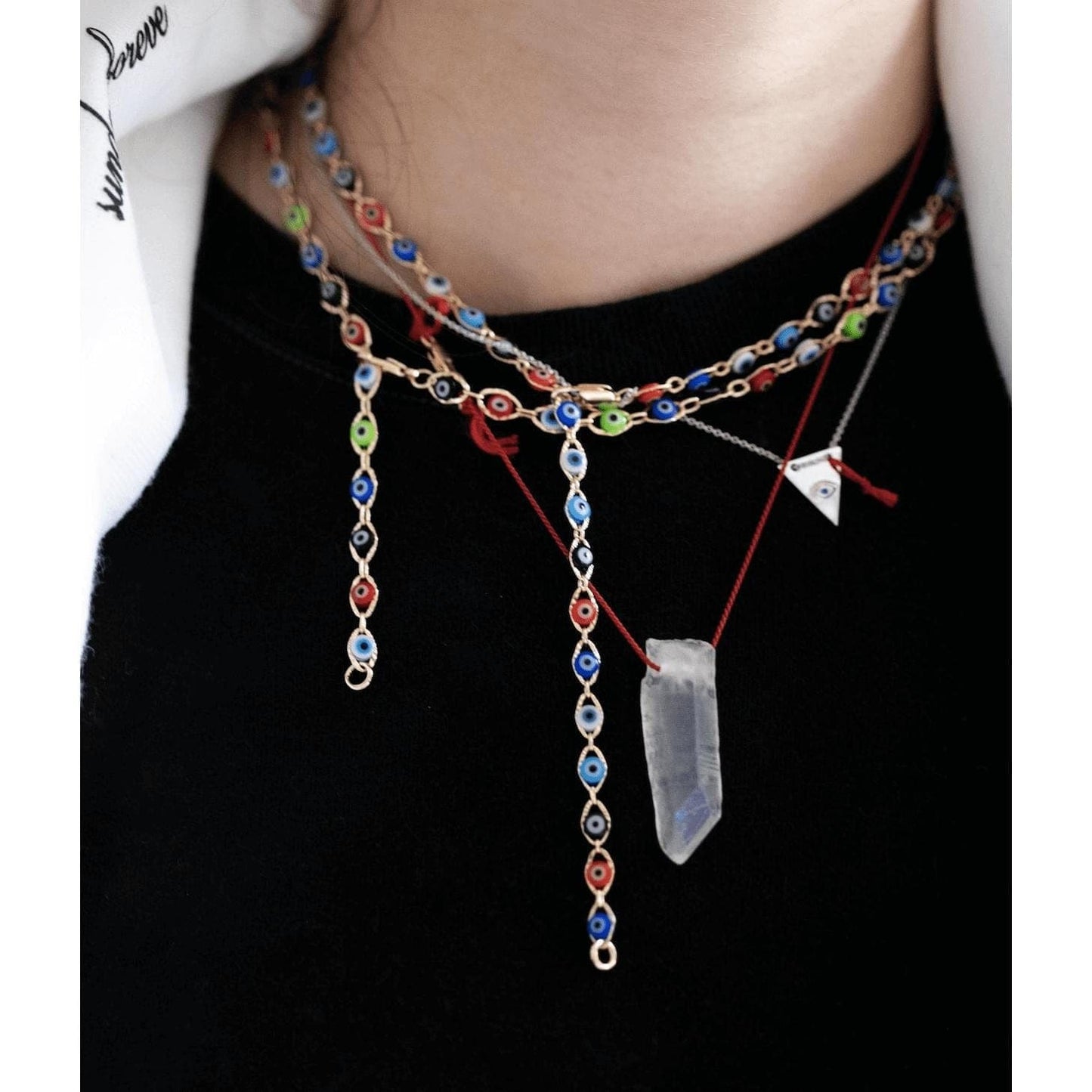 Beautiful!
So thoughtful packaged and fast delivery too!
Best Vibes Necklace!
This necklace makes every and any outfit look so chic! I get so many compliments and questions about it. Love it!!
Best Vibes Necklace!
This necklace makes every and any outfit look so chic! I get so many compliments and questions about it. Love it!!
absolutely beautiful
I bought the "double the eyes rainbow set" and loved it so much that I had to order another set for my wrist/ankle. These are absolutely beautiful, and are the best layering necklaces I have ever had! I never take them off!
Give me ALL THE EYES
I went to buy this a few weeks ago, and the neon one was sold out… I'm SO glad the restocked it! It's literally the best layering necklace! Wearing it today with their Quartz red string necklace, it has me feeling all the vibes. Perfect pairing. 🧿💎📿
So fun!
This necklace is great for layering & I love that it can be adjusted to wear at any length. So cute as a choker & it really spices up any look. . Love it!
great addition
this necklace is so good for daily wear and layering. a must have in my wardrobe
Lovely necklace
Fun piece to layer or wear alone. Great detail and quality. Very happy with my purchase - in fact I just bought a second one in a different color patten to mix it up!
A new favorite
I've been eyeing this piece up for a bit and finally decided to get it. It's that perfect layering piece but looks great on its own as well. You can even play around with wearing it in a "y" or lariat style for an extra playful touch. Definitely glad I finally purchased!
Stack. Collect. Gift. REPEAT.
Whether you design something custom or shop our best selling classics, all Sunday Forever jewelry arrives to you perfectly packaged in our Nice Things reusablesnap front jewelry holder and 100% cotton Nice Things Inside pouch.
OUR VIBE

SUNDAY FOREVER is a small female founded and run business based in NYC. The brand was born in 2016 out of a desire to make perfectly packaged, nice things that could be delivered to your doorstep or to someone special. 

To this day we pack and ship every single order from our studio with our very own human hands. We create and design everything in house and our customers and community are the reason we exist. We aim to delight you.

OUR JEWELRY

From our handmade signature red string jewelry to silver and 14k gold favorites, all Sunday Forever pieces are made to be worn for protection and luck.

Stack them, collect them, gift them.

Choose from our classic best-selling designs or select your charms and we'll make it custom. From evil eyes to horse shoes, zodiacs and letters, the meaningful possibilities are endless.