Regular price
Sale price
$48.00 USD
Unit price
per
SPECIAL PRICE!
Sold out
The Gingerella Candle smells like a sexy, successful gingerbread woman. You read that right. This ultra sophisticated candle features notes of sparkling sandalwood, a touch of musk and a lot of spice. Reminiscent of your fancy aunt who came decked in Chanel to your family holiday dinner.
The Details

Our ethically produced, luxury candles are hand poured right here in the USA using only the highest quality wax and ingredients for a clean burn. Our candles are vegan, nontoxic, and cruelty-free.

Burn Times

9oz - 50 hours
11oz - 70 hours
30oz - 120 hours
Materials

We use a blend of Coconut and Soy wax - this makes for a clean, slow and smooth burn. 
We use 100% cotton wicks and our fragrances are phthalate free, hand poured and hand packaged by a mission based company based in the USA. They support female refugees and artisans by offering them a fair living wage through the art of candle making.
Sunday Forever custom made scents can't be found anywhere else and offer a luxury candle experience each time you light one up. 
Shipping & Returns

It's our mission to get your nice things to you asap and make sure you love what you've got, and are thrilled to offer free shipping on orders over $100 and hassle-free returns.

Shipping

We pull our orders at 10am EST each day (excluding Wednesdays, Saturdays, and Sundays).

If you selected USPS Standard Shipping (or Free Shipping), your order will typically ship within 1 to 2 business days of when it was placed. Any orders with red string jewelry may take an additional 5 to 7 business days to process. If you need your order by a certain date, please leave a note at checkout or reach out to heretohelp@sundayforever.com and we'll do our best to prioritize it.

If you selected Fedex 2-Day or Fedex Standard Overnight, your order will ship the following business day.

Returns

For an exchange or return, please click here and we'll get you sorted. All returns have a $5 shipping and re-stocking fee. Exchanges are free.

Please note we can not accept returns for any custom items (i.e. embroidered robes & custom jewelry).
Care Instructions

Learn proper candle burning techniques here. 
Share
View full details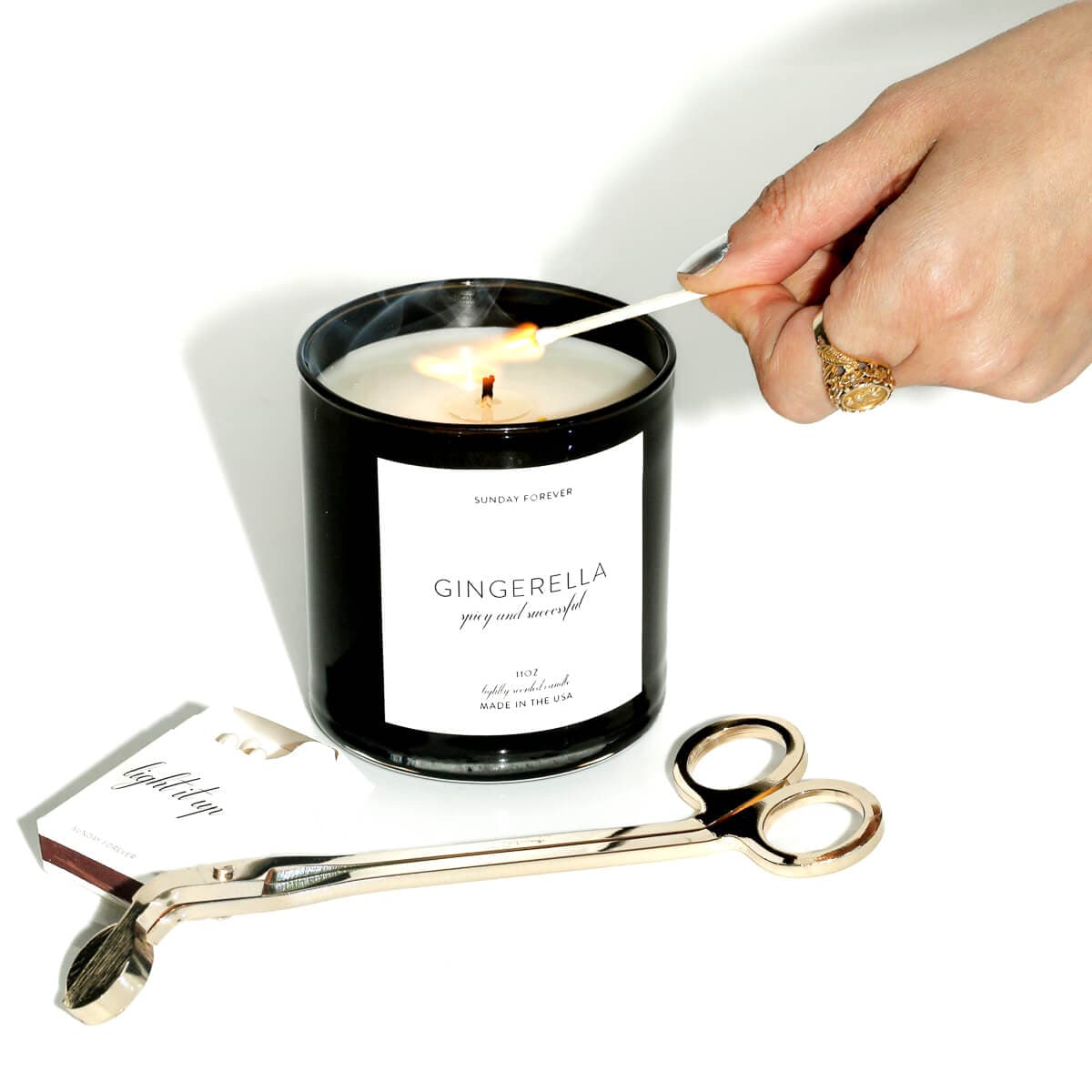 Cozy and delicious
Such a great scent! I burn it in a large, open-concept space, and you can smell it but it's not overpowering. Complex, cozy, and spicy.
Do not like the scent and asked to return but no reply!
Hi Shanda! I'm sorry you didn't like the scent, it's not for everyone that's for sure :) In terms of returns, you can go to our website and there's a large bar at the top of the site that says 'RETURNS & EXCHANGES'. Also, there's an automatic reply to your email that outlines how to make a return - maybe check your spam? t's a simple link and all you have to do is click it and go. Thanks for giving is a try and sorry you weren't happy, can't win em all i guess!
xx
Ashli
cozy and spicy
my go-to housewarming gift. beyond sophisticated looking and smelling.
this smells like a handsome man
I can't explain it but it does and in the absolute best way possible
Curating the vibes
You guys are always so thoughtful, all of my decor is from you guys, and as always Gingerella is my favorite scent (🤞🏼Make it a perfume!)
Husband's favorite candle ever
My husband just came home from work and said it smells like a barbershop 💈 in here. Then proceeded to say that's the best candle I've ever smelled. Well
I wasn't expecting that! Def going in my permanent candle rotation with 1111 and Morning.
Hi Katherine! Eileen here. Thanks so much for the review! Gingerella is the perfect sophisticated scent. So glad you and your husband are loving her xx
Cozy Winter Vibes!
Gingergella is spicy and sophisticated! It's the perfect candle for a cozy winter! In love!
Thanks Yolanda! Eileen here. Happy to hear Gingerella is the perfect addition to your cozy winter vibes this season xx
New favorite!
So happy I finally tried this candle - it's absolutely a new favorite & perfect for cozy season. Warm & spicy without being overpowering. I love it!
Love this candle. Bought a second for my husband bc he loves it even more. It's a bit pricey but it's a holiday gift- so I splurged.
Light it up...
Our candles instantly elevate any space and make the perfect gift. 
Whether it's for you, your bestie, or that friend who already has everything, our candles are always sure to please.
Our Vibe

SUNDAY FOREVER is a small female founded and run business based in NYC. The brand was born in 2016 out of a desire to make perfectly packaged, nice things that could be delivered to your doorstep or to someone special.

To this day we pack and ship every single order from our studio with our very own human hands. We create and design everything in house and our customers and community are the reason we exist. We aim to delight you.

Our Candles

Our ethically produced luxury candles are hand poured right here in the USA using only the highest quality wax and ingredients for a clean burn.

We work with a mission based company that pays female refugees a fair living wage through the art of candle making.

Choose from our signature scents, light it up and relax.

You deserve nice candles.