Regular price
Sale price
$38.00 USD
Unit price
per
SPECIAL PRICE!
Sold out
Our Hotel Sunday candle is a impeccably stylish and balanced scent designed to turn your space into a serene haven. Infused with notes of Pink Pepper, Sparkling Musk, and a hint of Red Cherries, it serves as an olfactory passport to a chic, luxurious escape. This unique candle transforms any room into the inviting ambiance of a boutique hotel, making it an essential addition to your collection.
The 'Hotel Sunday' candle is your perfect home fragrance companion, exuding an aroma that's easy to love and hard to forget. Each note plays a distinct role: the Pink Pepper offers a slight spicy undertone, the Sparkling Musk creates a rich, warm ambiance, and the hint of Red Cherries adds a touch of sweet sophistication. Together, they create a scent profile that's as intriguing as it is comforting.
Whether you're looking to set a relaxing tone in your own space or searching for the ideal gift, the 'Hotel Sunday' candle serves as the perfect choice. Its unique scent combination offers a captivating backdrop—or even becomes the main character—in any room.
With the 'Hotel Sunday' candle, enjoy:
A chic and balanced fragrance, blending Pink Pepper, Sparkling Musk, and Red Cherries
A scent that transforms any room into a serene escape
High-quality, long-lasting burn time
Perfect for gifting or personal use
Make every day feel like a vacation with our 'Hotel Sunday' candle. Bask in its sophisticated aroma and let its scent transport you to your own personal retreat.
All Sunday Forever items are ethically made, sourced, non-toxic and cruelty free. 
The Details

Our 9oz and 11oz candles offer about 60 hours of burn time and the 30oz offers about 120 hours.
Our founder Ashli is the genius behind each and every one of our candle scents, and as someone who's suffered from migraines she's created the only candles out there that can fill a room without giving you a headache.
Learn proper candle burning techniques 

here

.

Our candles are vegan, nontoxic, and cruelty-free. 
Materials

Sunday Forever custom made scents can't be found anywhere else and offer a luxury candle experience each time you light one up.
We use a blend of Coconut and Soy wax - this makes for a clean, slow and smooth burn.
We use 100% cotton wicks and our fragrances are phthalate free, hand poured and hand packaged by a mission based company based in the USA. They support female refugees and artisans by offering them a fair living wage through the art of candle making.
Shipping & Returns

It's our mission to get your nice things to you asap and make sure you love what you've got, and are thrilled to offer free shipping on orders over $100 and hassle-free returns.

Shipping

We pull our orders at 10am EST each day (excluding Wednesdays, Saturdays, and Sundays).

If you selected USPS Standard Shipping (or Free Shipping), your order will typically ship within 1 to 2 business days of when it was placed. Any orders with red string jewelry may take an additional 5 to 7 business days to process. If you need your order by a certain date, please leave a note at checkout or reach out to heretohelp@sundayforever.com and we'll do our best to prioritize it.

If you selected Fedex 2-Day or Fedex Standard Overnight, your order will ship the following business day.

Returns

For an exchange or return, please click here and we'll get you sorted. All returns have a $5 shipping and re-stocking fee. Exchanges are free.

Please note we can not accept returns for any custom items (i.e. embroidered robes & custom jewelry).
Care Instructions

Learn proper candle burning techniques here.
Share
View full details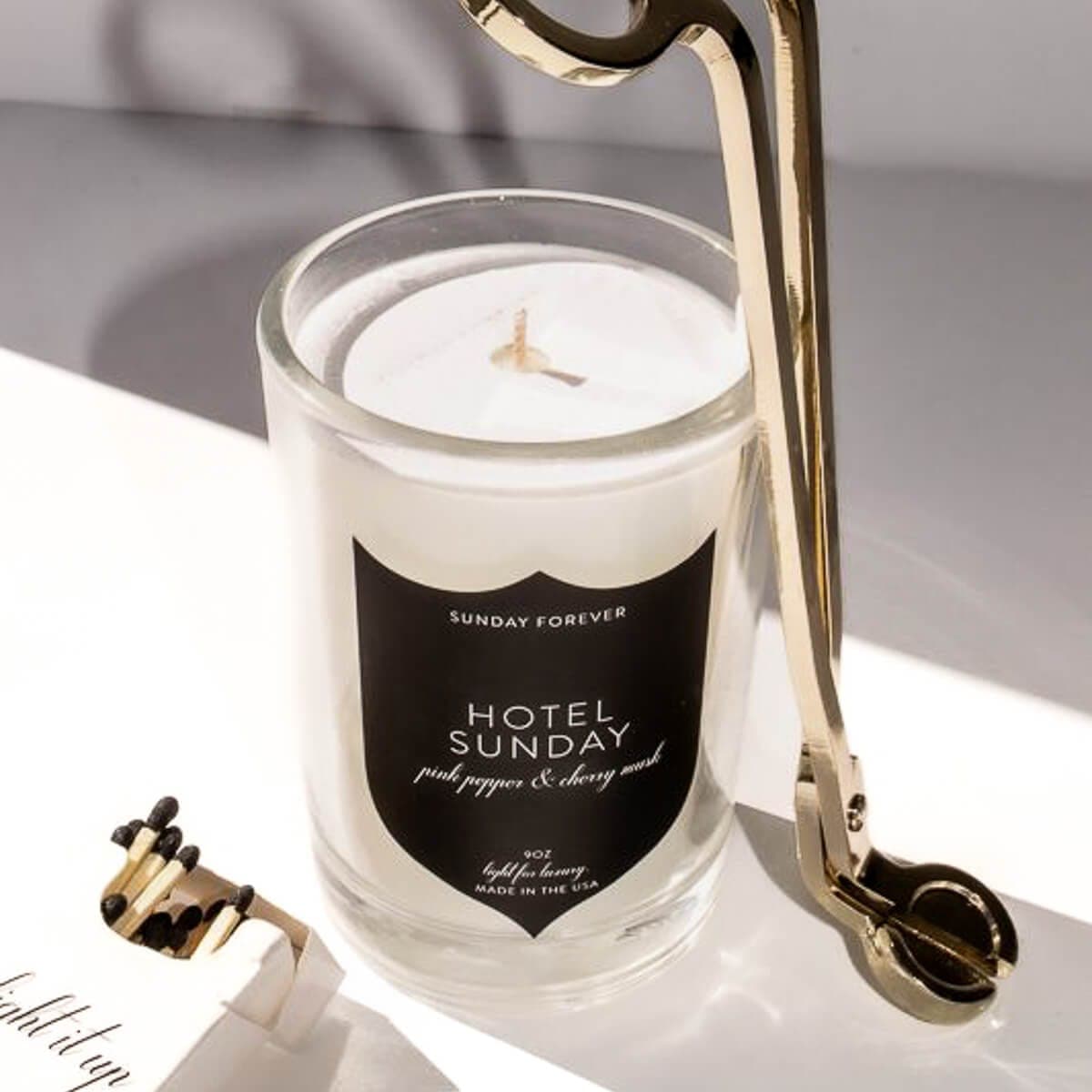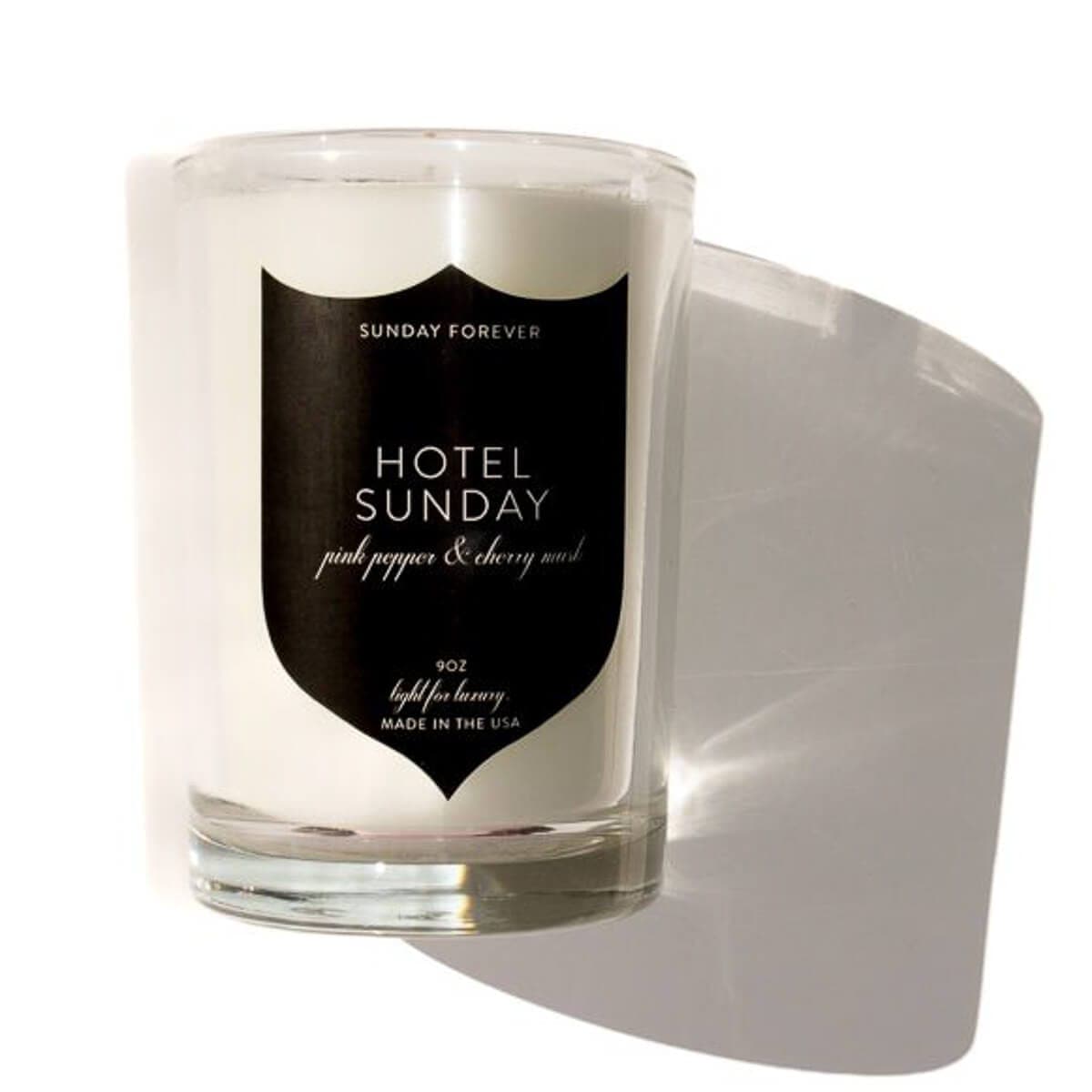 Dreamy 🤩 Favorite Scent ever
Hotel Sunday is my all time favorite scent! My house smells so chic now. I'm obsessed!!
Flame based joy
New Sunday Forever addict. Found on IG and took a chance on the 11:11 candle. Instant pot smile from the moment I unpacked the box. More fragrances are on the way now and I can hardly wait.
My personal perfect scent
I ordered 4 candles during the 11:11 sale and I love all of them, but I have to say that this one is my favorite! It whispers of luxurious musk but somehow manages to stay fresh and approachable. I have literally been taking it with me when I move between rooms in my house just so I can keep smelling it! Absolutely delicious.
Hotel Sunday! 💕
So fancy, and chic, the name says it all!
TYSM! She's really the perfect balance and backdrop, so glad you love Hotel Sunday :)
Smells like a dream!
I always light this scent when I've done a deep clean and it just makes my home feel cozy and comfortable and dreamy!
Chic, delicious, (so) fun
Smells good, looks amazing, and love the little tag along gifts. What more could you want?!
Absolutely precious!!!!
My daughter introduced me to this company three years ago when she bought my first coconut fragrance. I have been obsessed ever sense. I love ordering and receiving my packages is the ultimate thrill for me. Thank you so very much ladies,xoxo
Can barely smell
Not what I expected. I can barely smell it. Disappointed in this one
Awww i'm sorry about that, the majority of our candles are intentionally more delicately scented as our founder suffers from migraine and allergies. However if you're looking for something more heavily scented check out Rich, 11:11, Kittyrose or Gingerella. They definitely pack more of a punch :) xx
Wonderful scent, but not very strong
My coworker suggested this candle scent because I love clean linen and ocean scents. I do really like how nice this scent is - super clean and refreshing. I was disappointed that it isn't very strong, though. I mean, I have to hold the candle up to my nose to smell it. When burning, it doesn't really fill the room like most candles I have. Lastly, I was surprised at how small it is given the price. If there's a spray of this scent, I might buy that, but I doubt I'd spend the money on the candle again :(
Hi Lisa! Eileen here. I'm sorry to hear our candle wasn't the perfect match for you. I love the idea about a room spray! We will keep in mind for the future xx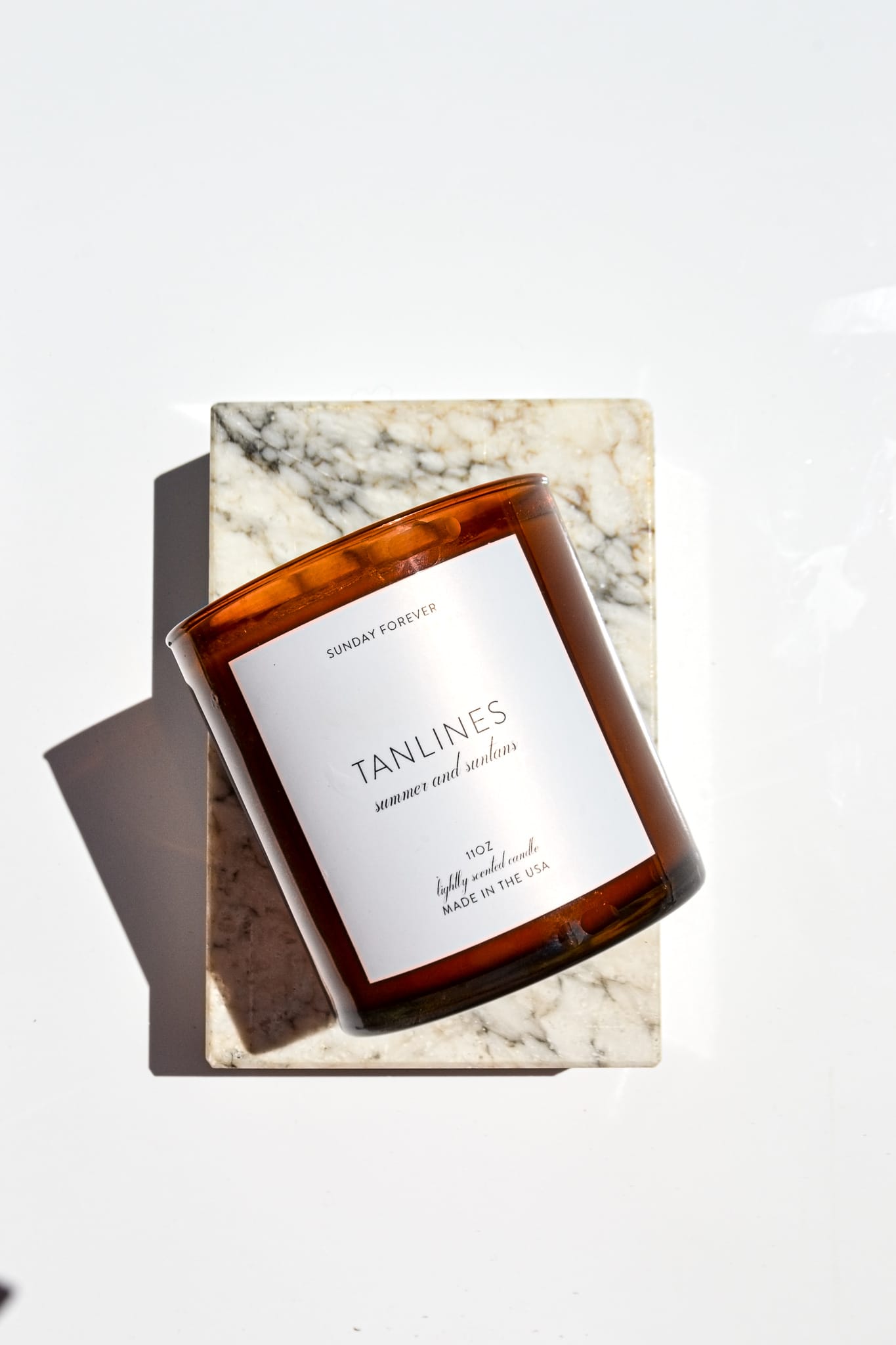 Light it up...
Our candles instantly elevate any space and make the perfect gift.
Whether it's for you, your bestie, or that friend who already has everything, our candles are always sure to please.
Free Shipping

We're thrilled to off free shipping on all orders over $100. Just select free shipping at checkout and we'll get your goodies in the mail.

Hassle-Free Exchanges

We want you to love your nice things, and are always here to make things right.

All returns have a $5 shipping and re-stocking fee. Exchanges are free.

Please note we can not accept returns for custom items (i.e. embroidered robes & custom jewelry).