Regular price
Sale price
$52.00 USD
Unit price
per
BUNDLE UP!
Sold out
Meet our NEW! Limited Edition Firever Green Luxury Candle with Pine Trees and Forest Dreams. Waltz through an eternal winter wonderland with top notes of pine, cedar, and mistletoe, capped off with an icy glacial breeze. Hand-poured by local artisans in an exclusive gorgeous green glass, you'll soon feel the merry magic with each flicker of the flame. Perhaps you'll find a furry friend in the forest of your own, like our founder's very own chipmunk Carl.
Step into a serene endless forest where time stands still and winter's chill never fades. Our NEW! Firever Green candle is an ode to the soul-soothing essence of a pine forest heaven. Transform your space into a tranquil winter sanctuary with each whiff you sniff. Embrace winter's most fresh foliage with every flicker of the flame.
*Note: Hi there, Candle Connoisseur! You might've noticed the price of Firever Green is higher than our usual lineup. That's because this gem is crafted with some seriously luxe ingredients that are a smidgen more expensive. Think of it as the 'Champagne of Candles'—totally worth the little splurge. Thanks for understanding, xx The Sunday Forever Elves 🕯️
Shipping & Returns

It's our mission to get your nice things to you asap and make sure you love what you've got, and are thrilled to offer free shipping on orders over $100 and hassle-free returns.

Shipping

We pull our orders at 10am EST each day (excluding Wednesdays, Saturdays, and Sundays).

If you selected USPS Standard Shipping (or Free Shipping), your order will typically ship within 1 to 2 business days of when it was placed. Any orders with red string jewelry may take an additional 5 to 7 business days to process. If you need your order by a certain date, please leave a note at checkout or reach out to heretohelp@sundayforever.com and we'll do our best to prioritize it.

If you selected Fedex 2-Day or Fedex Standard Overnight, your order will ship the following business day.

Returns

For an exchange or return, please click here and we'll get you sorted. All returns have a $5 shipping and re-stocking fee. Exchanges are free.

Please note we can not accept returns for any custom items (i.e. embroidered robes & custom jewelry).
Share
View full details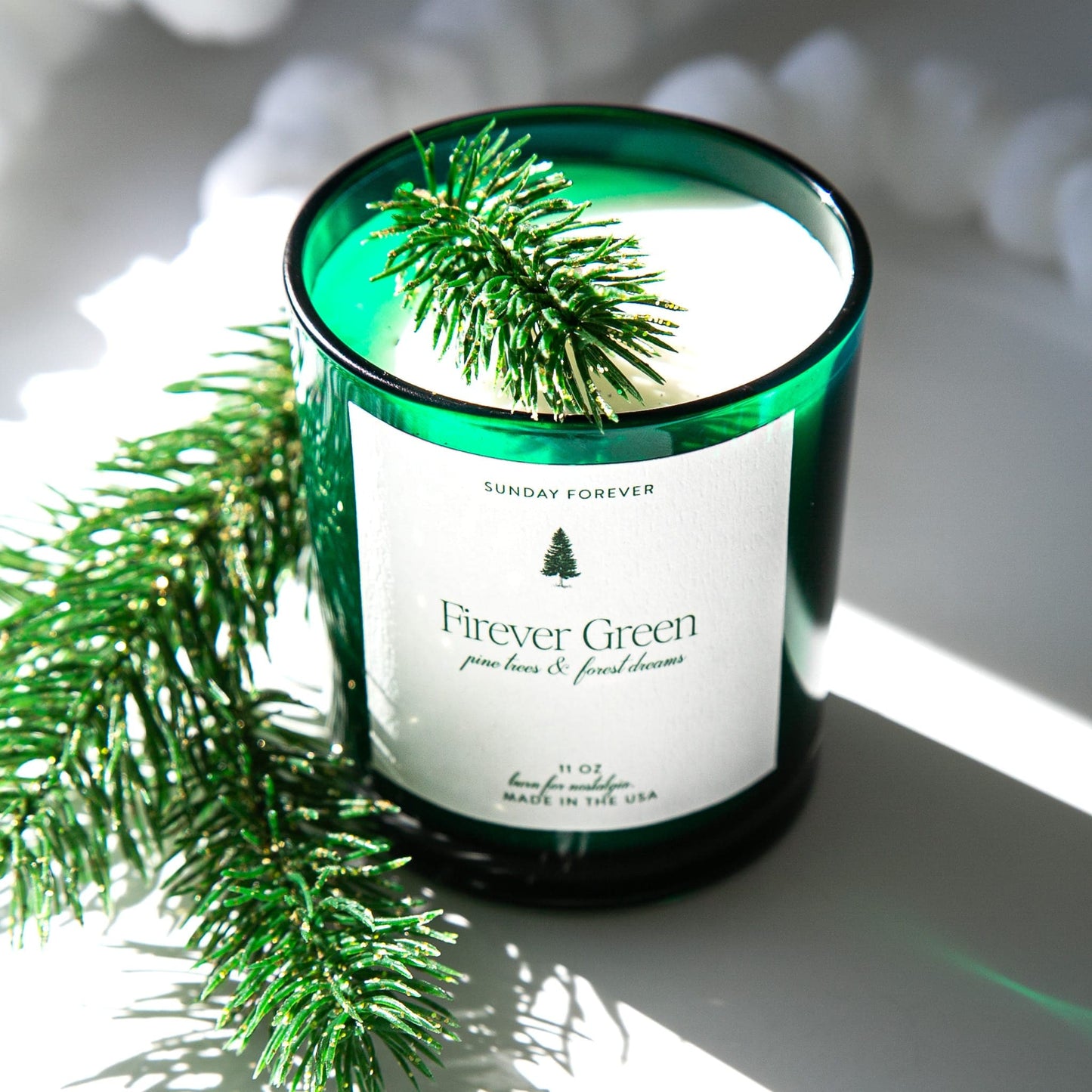 Tree farm fresh
Crisp, refreshing evergreen smell! This candle has a true woodsy pine scent. It will trick your guests to thinking your Christmas tree must be real!!
Love!
The candle smells so good! I feel like im in a forest! 🌲
In love
First of all, this review is so overdue it's embarrassing. I have been a fan of Sunday Forever for almost 4 years and honestly I am never disappointed. Every single scent is on point. Their robes? Just let me live in them forever. Oh and smokeshow? If I can just dip myself into that scent everyday I would but until that happens, I'll settle for the perfume and body butter.
Stunning, gorgeous, festive
This candle actually smells like a pine tree. Not that fake spray that my dad used to spray on our artificial tree in the early 1990s, but as authentic a pine and balsam as you can get. It smells almost cold, like a forest, but also cozy somehow? I love the green glass jar, and the entire thing is just so f*cking festive. Yes, it's expensive but you're worth it, baby!
The goods...
At Sunday Forever we take comfy-chic seriously, and design everything the keep your vibe immaculate. From robes to candles to home goods and more, we're the go-to for nice things.
We're so glad you're here.
OUR VIBE

SUNDAY FOREVER is a small female founded and run business based in NYC. The brand was born in 2016 out of a desire to make perfectly packaged, nice things that could be delivered to your doorstep or to someone special. 

To this day we pack and ship every single order from our studio with our very own human hands. We create and design everything in house and our customers and community are the reason we exist. We aim to delight you.

OUR FOUNDER

Hi, my name is Ashli and I'm the founder of this dreamy little corner of the internet. 

Long story short, I found myself 12 years into my corporate "dream job" unhappy, unfulfilled and at the top of the wrong ladder. 

So, I took a huge leap of faith and vowed to help rid myself and others of "Sunday Scaries". That's where the name of our brand came from, I wanted to create a little dream world where it felt like Sunday Forever.