Regular price
Sale price
$48.00 USD
Unit price
per
BUNDLE UP!
Sold out
Get ready for an instant seaside getaway with our 'Beachin' Candle'. Immerse yourself in the tranquility of the coast, no matter where you are, as this candle whisks your senses away to sun-kissed sands and lapping waves.
Our 'Beachin' Candle' is meticulously crafted, featuring an inviting blend of notes that encapsulate the essence of a flawless beach day. As you light it up, experience a journey through:
Lightly Creamed Coconut: This soft note envelops you with a sense of tropical calm, reminiscent of sipping a refreshing coconut drink while lounging under a palm shade.

Hint of Fresh Sea Air: Breathe in the invigorating aroma of crisp sea air, transporting you to a serene shoreline where the ocean meets the sky.

Sandy Dreams: As the final note unfolds, lose yourself in dreams of warm sand between your toes, echoing an afternoon spent lazing on an idyllic beach.
Inspired by the perfect beach day, our 'Beachin' Candle' doesn't just light up your space; it creates an escape, a personal slice of beach paradise. It's an ideal companion for a relaxing bath, a quiet reading session, or simply when you crave a moment of coastal tranquility.
At Sunday Forever, we believe in crafting products that not only look good, but also feel good. Our 'Beachin' Candle' is ethically made, cruelty-free, and non-toxic, promising a guilt-free indulgence.
Light up our 'Beachin' Candle' and let your everyday be a beach day!
The Details

Our ethically produced, luxury candles are hand poured right here in the USA using only the highest quality wax and ingredients for a clean burn. Our candles are vegan, nontoxic, and cruelty-free.

Burn Times

9oz - 50 hours
11oz - 70 hours
30oz - 120 hours
Materials

We use a blend of Coconut and Soy wax - this makes for a clean, slow and smooth burn. 
We use 100% cotton wicks and our fragrances are phthalate free, hand poured and hand packaged by a mission based company based in the USA. They support female refugees and artisans by offering them a fair living wage through the art of candle making.
Sunday Forever custom made scents can't be found anywhere else and offer a luxury candle experience each time you light one up. 
Shipping & Returns

It's our mission to get your nice things to you asap and make sure you love what you've got, and are thrilled to offer free shipping on orders over $100 and hassle-free returns.

Shipping

We pull our orders at 10am EST each day (excluding Wednesdays, Saturdays, and Sundays).

If you selected USPS Standard Shipping (or Free Shipping), your order will typically ship within 1 to 2 business days of when it was placed. Any orders with red string jewelry may take an additional 5 to 7 business days to process. If you need your order by a certain date, please leave a note at checkout or reach out to heretohelp@sundayforever.com and we'll do our best to prioritize it.

If you selected Fedex 2-Day or Fedex Standard Overnight, your order will ship the following business day.

Returns

For an exchange or return, please click here and we'll get you sorted. All returns have a $5 shipping and re-stocking fee. Exchanges are free.

Please note we can not accept returns for any custom items (i.e. embroidered robes & custom jewelry).
Care Instructions

Learn proper candle burning techniques here. 
Share
View full details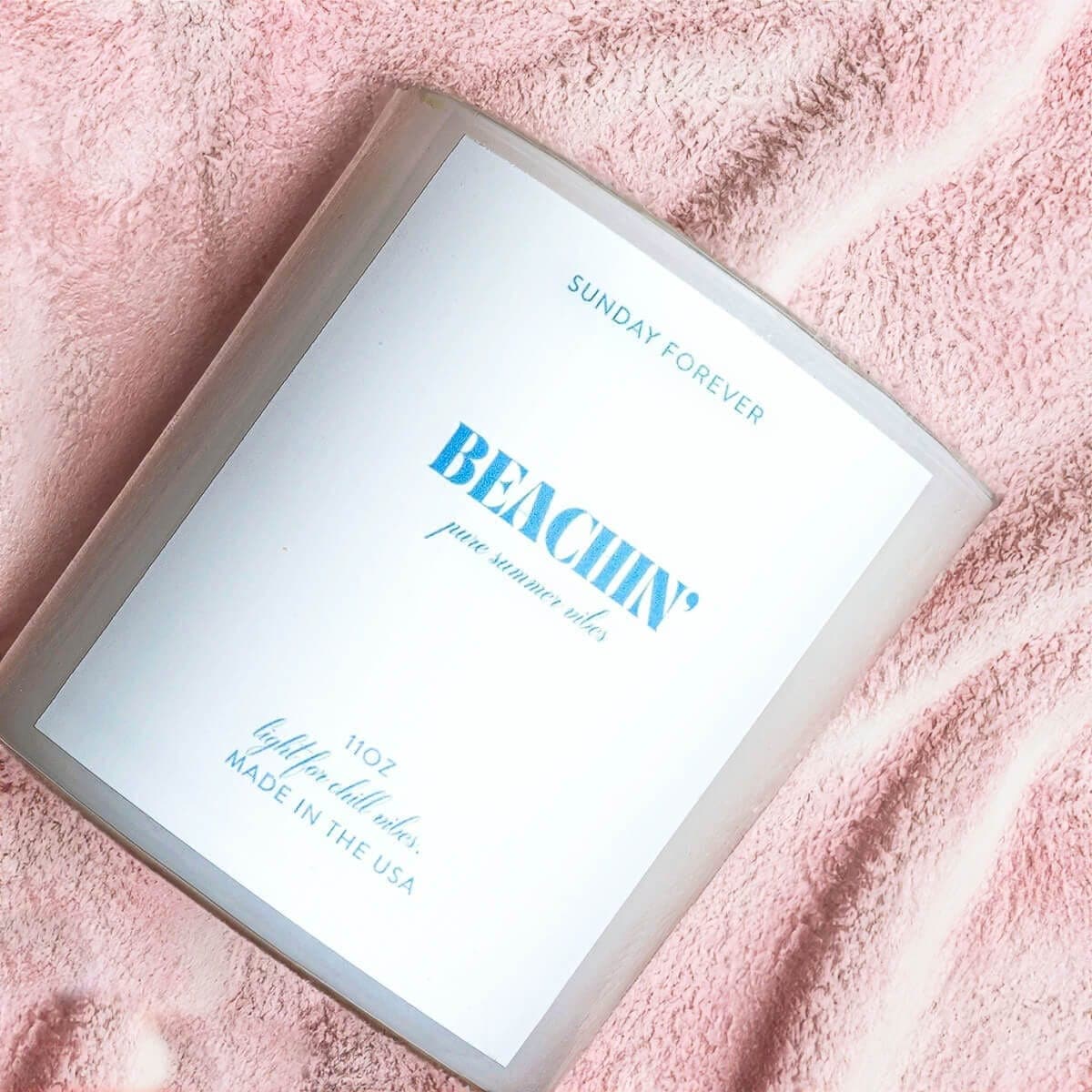 Love Love Love!
Sunday Forever candles are my guilty pleasure and this scent is another winner! It's creamy, sandy and just sweet enough. If you love Tanlines and Toasted Coconut then you must click "add to cart" immediately!!
Best Scent Ever!
Amazingly packaged and as usual, arrived with an extra little surprise.
Best candle ever
A very unique and subtle smell , perfect for my home , honestly I loved it
OMG Delicious!
Currently I'm in a fight between which candle I like more this one or Tanlines. They both smell amazing and if you're a fan of beachy, coconut, suntan lotion smells that aren't overwhelming than you'll definitely agree with me. Don't pass this one up!
She's Back! Beachin' Candle
So damn happy
When my Sunday Forever package comes it the best day of the month. I love everything! Amazing quality and service!
Perfect birthday gift
Not only does Sunday Forever have the most amazing smells, all their products are divinely affordable! Easiest gift giving to others and myself!
Hi Meredith! Eileen here. Thanks for the glowing review! Beachin' is a treat - so glad you're loving all of our scents xx
If summer were a candle..
Just when I thought I couldn't fall in love with another Sunday Forever candle here comes Beachin' !! It's like summertime magic, sunsets, brunches, sundresses, laughter; all the best memories of summer. Why didn't I order more, please make this available all year long !!
Delightful
This candle smells amazing and the scent isn't overpowering. A mix of a "beachy" smell similar to their Tanlines candle, mixed with a touch of coconut and vanilla. So nice for summer.
Light it up...
Our candles instantly elevate any space and make the perfect gift. 
Whether it's for you, your bestie, or that friend who already has everything, our candles are always sure to please.
Our Vibe

SUNDAY FOREVER is a small female founded and run business based in NYC. The brand was born in 2016 out of a desire to make perfectly packaged, nice things that could be delivered to your doorstep or to someone special.

To this day we pack and ship every single order from our studio with our very own human hands. We create and design everything in house and our customers and community are the reason we exist. We aim to delight you.

Our Candles

Our ethically produced luxury candles are hand poured right here in the USA using only the highest quality wax and ingredients for a clean burn.

We work with a mission based company that pays female refugees a fair living wage through the art of candle making.

Choose from our signature scents, light it up and relax.

You deserve nice candles.